Man's best friend is likely to be terrorists' worst enemy this summer courtesy of a police dog detachment dealing with emergencies and other Expo-related threats, similar to the team employed two years ago for the Olympics in Beijing.

"Security dogs have played an indispensable role in combating serious crime in Shanghai in the past," said Sa Yingli, chief of the department that is handling the animals at the Pudong branch of Shanghai's Public Security Bureau.

"We look forward to using them as part of the city's measures to maintain safety and vigilance during the 2010 Expo," he added.

The Pudong police are now training around 140 Labradors, German Shepherds and Rottweilers in one of the city's suburbs with an eye to using the cream of the crop to detect bombs, perform search and rescue missions and take down violent suspects.

They are also being trained weekly on how to read trainers' body language, crawl, overcome obstacles and acclimatize to the sound of gunfire. Mock situations have them dealing with such elaborate crimes as kidnappings and bomb retrieval.

"The dogs can now detect flammable substances as small as a match," said Sa, adding that they have already been dummy tested for the expo.

During US President Barack Obama's visit to Shanghai in November, the canines sniffed explosives around Shanghai Science and Technology Museum hours before Obama delivered a speech there and took questions from college students.

Another four police dogs bolstered security for US Secretary of State Hillary Clinton's tour of the Expo garden.

But officials expect security to be harder to control from this May compared to during the showcase Olympics due to the Expo's six-month lifespan and the 70-million-plus Expo tourists.

"In the beginning phase we are always ready in full battle array, even if we are a bundle of nerves. But the vigilance tends to wane as (big events) draw on," Pan Guang, the senior advisor on anti-terror affairs to Shanghai Mayor Han Zheng, told Oriental Outlook magazine.

"So we are making a point of stressing the need for tighter security during the last two months (of the 184-day Expo)."

Security experts said threats draw from a number of sources, ranging from terrorist organizations in East Turkistan to individual groups campaigning for anti-abortion or greater animal rights.

As such, the city's Party chief Yu Zhengsheng has prioritized security as an "overwhelming top task" for the event, even paying a courtesy call to the barracks of the armed police in charge of security on Jan 2.

With three months to go before the World's Fair opens its doors to the public, one new measure was introduced earlier this month at 31 stations of the city's metro, when a total of 60 X-ray scanners were installed to check passengers' hand luggage.

Another city-wide security campaign had community officials scouring homes to track and identify residents. The project seeks to screen over 20 million residents, including an estimated 7 million migrants.

Taking its cue from how Beijing prepared for the 2008 Games, Shanghai has called on 1 million Ping'an (mandarin Chinese for "safety") volunteers to patrol the streets, oversee the manufacturing sector and rule out possible security threats.

With drills taking place inside and outside the 5.28-sq-km Expo garden, city officials are also hoping to pen a deal with Swedish security services provider Securitas AB to buttress their efforts.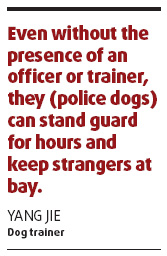 "We are having ongoing discussions about partnership deals," said Securitas' spokesperson Gisela Lindstrand.
Meanwhile, patrol officers inside the garden are not concerned about having bitten off more than they can chew, especially with the arrival of the new dogs, which have already demonstrated their prowess at apprehending suspects and detecting narcotics.
"They perform their duties very well," said trainer Yang Jie, who is paired with a two-year-old German Shepherd named Tete. "Even without the presence of an officer or trainer, they can stand guard for hours and keep strangers at bay."
Although police dogs are becoming higher profile in Shanghai and gaining the respect of its people, getting them to follow instructions is by no means easy.
"First of all they will try to master you, so you need to be very firm with them," said Yang, adding that puppies are usually broken in after three months and ready to report for duty before their first birthday.